Why waste money on energy costs…when fixing it is free!
Kelly's insulation makes it easy to find out if you qualify for the Utah thermwise insulation rebate program as well as other free attic insulation progams (most do). We will evaluate your home (free of charge) and tell you whether or not you qualify for a rebate. If you do, we'll cover the cost of adding the insulation to your attic and/or basement until you get your rebate check. We schedule appointments Monday through Saturday from 8:00 AM to 5:00 PM. It generally takes about an hour to complete an attic, and two hours to complete an attic and basement.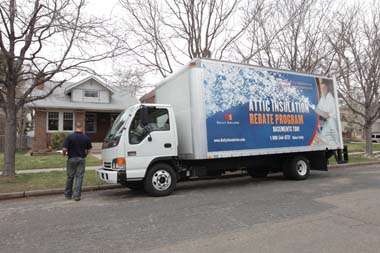 Fill out this form; we'll take it from there.
We're Insulation Pros!
Welcome! If you need it insulated, we'll do it affordably, quickly, and professionally. We have years of experience in the insulation industry. We use top-grade products and stand behind our work. We have thousands of satisfied customers. Please let us know if we can help you.
Phone, Email and Mailing Address
1-800-544-6721
Espanol: 801-425-4618
email: service@kellysinsulation.com
Mail: PO Box 160366, Clearfield, UT 84016

Watch some informational videos
You can watch more videos on our videos page.